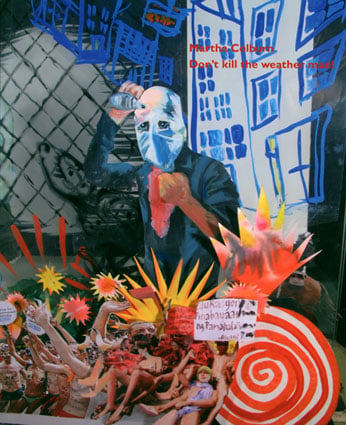 Martha Colburn: Don't Kill the Weatherman!, edited by Erik Stephan
$

20.00

/ Sold Out
---
Martha Colburn: Don't Kill the Weatherman!
edited by Erik Stephan
Signed by the author!
Kunstsammlung Jena, 2010
62 pages, 61 illustrations
Paperback
"Martha Colburn was born in Gettysburg, Pennsylvania (USA) in 1971 and went to the Maryland Institute College of Art in Baltimore from 1990. There she came into contact with the experimental music scene and worked this music into her films. In the year 2000, Colburn received a grant to study at the Rijksakademie van beeldende kunst (National Academy of Fine Arts) in Amsterdam, and she has spent regular periods in the Netherlands ever since. In recent years, Martha Colburn has created numerous animations for music videos in addition to her own films.
Martha Colburn is one of the most diverse and unusual artists of our age." -Erik Stephan in "Foreword"