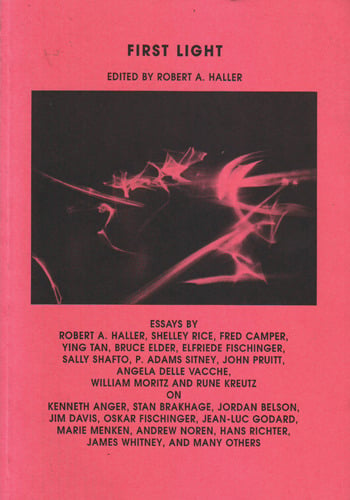 First Light, edited by Robert A. Haller
$

5.00
---
---
MEMBERS GET 20% OFF ON THIS ITEM!
Enter code MEMBER at checkout
You must be a current member to use this discount. Your membership will be verified before your order is shipped.
First Light
edited by Robert A. Haller
Anthology Film Archives, 1998
108 pages
Paperback
First Light is a collection of essays on the films and filmmakers that have been restored and brought to light by Anthology.
Essays by Robert A. Haller, Shelley Rice, Fred Camper, Ying Tan, Bruce Elder, Elfriede Fischinger, Sally Shafto, P. Adams Sitney, John Pruitt, Angela Delle Vacche, William Moritz and Rune Kreutz
on
Kenneth Anger, Stan Brakhage, Jordan Belson, Jim Davis, Oskar Fischinger, Jean-Luc Godard, Marie Menken, Andrew Noren, Hans Richter, James Whitney, and many others.
"This series is a small testament to the work performed by Anthology Film Archives and the laboratories which restore films and make it possible for motion pictures to live beyond the brief life they would have were it not for active film preservation." -Robert A. Haller in the introduction