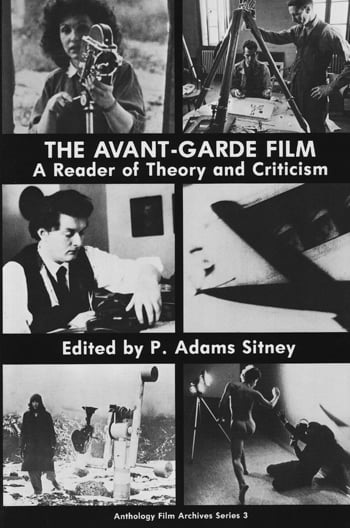 The Avant-Garde Film: A Reader of Theory and Criticism, edited by P. Adams Sitney
$

75.00

/ Sold Out
---
MEMBERS GET 20% OFF ON THIS ITEM!
Enter code MEMBER at checkout
You must be a current member to use this discount. Your membership will be verified before your order is shipped.
The Avant-Garde Film: A Reader of Theory and Criticism
edited by P. Adams Sitney
Anthology Film Archives, 1987
295 pages
Paperback
The Avant-Garde Film is a comprehensive anthology of writings by and about avant-garde filmmakers, edited with an historical introduction by the notable P. Adams Sitney. Several theoretical and critical articles appear here for the first time, while many others have been translated into English especially for this collection. The Avant-Garde Film makes available to the reader the vivid and incumbent debate about the essence of cinema which began with the Surrealist, Dadaist and Constructivist filmmakers of the 1920s, an important and fascinating aspect of the history of the most modern art.