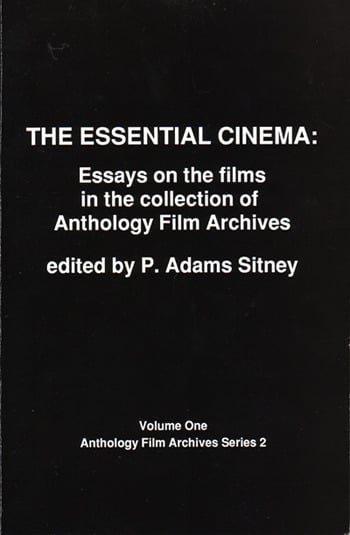 The Essential Cinema: Essays on the Films in the Collection of Anthology, edited by P. Adams Sitney
$

30.00
---
---
MEMBERS GET 20% OFF ON THIS ITEM!
Enter code MEMBER at checkout
You must be a current member to use this discount. Your membership will be verified before your order is shipped.
The Essential Cinema: Essays on the Films in the Collection of Anthology Film Archives
edited by P. Adams Sitney
Anthology Film Archives, 1975
364 pages
Paperback
The Essential Cinema is a written and illustrated companion to the invaluable collection of films that are housed in the Anthology Film Archives, featuring essays by notable film scholars discussing the works of Griffith, Eisenstein, Brakhage and many others. The book also includes a 119-page bibliography of books and articles within Anthology's Reference Library. A must-have for the film-enthusiast and a friend of Anthology!